KIRKWOOD MANHUNT: Suspect in Custody, Found Naked In Chicken Coop
Posted:
Updated:
KIRKWOOD, N.Y. -
UPDATE 6:15 P.M.
State Police have arrested the suspect who fled the scene after they say he crashed a stolen vehicle on I-81 in Kirkwood.
After 7 hours of searching, police received a call that the man they were looking for was in a chicken coop on Springer Rd. Naked.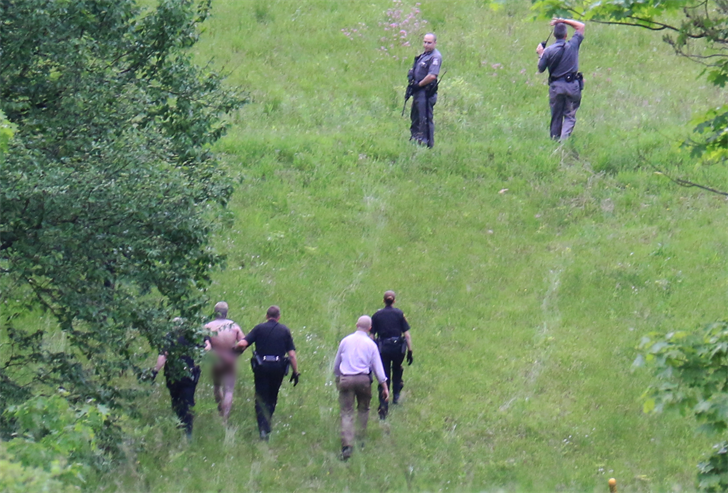 Police lead suspect away. He was not wearing any clothes when arrested. (Photo: Roger Luther)
Roger Luther, Broome County Historian and the face of Fox 40's 100 Years Ago Today segment, was the one who made the 911 call that led police to the suspect.
Around 5:30 pm, the Luthers got a call from state police to stay inside their home and lock the doors. Shortly after they saw him. A man about 6 ft tall with blonde hair and covered in mud.
"I was sitting there watching the news trying to see if there was anything on the news and I see this head walked by and he was covered with mud. His head was covered with mud. His face covered with mud," says Kathy, "And he was just here under the window so I said Roger dial 911 he's here, he's at our house."
As Roger called 911, the suspect headed for their chicken coop.
"'He's here, he's here the guy you're looking for is here and he's in our chicken run and he's trying to catch a chicken and he's totally naked,'" Kathy recounts what she heard her husband telling the dispatcher on the phone.
After the whole ordeal, the Luthers say they noticed one of their chickens is gone. A trail of feathers can be seen in the yard and under their neighbor's deck. Roger says another resident in the area also saw the suspect trying to get into their chicken coop. This resident fought the suspect off according to the Luthers.
Roger told Fox 40 that the suspect harmed at least one other family pet in the area.
"So none of this makes sense. I mean why would he catch a chicken? Why would he not have any clothes on?" says Roger.
The New York State Police were assisted by the Broome County Sheriff's Office, Binghamton Police Department, and Johnson City Police Department in the search.
State Police are encouraging residents to check their property and contact them at 607-775-1241 if anything appears disturbed.
Police say additional information about the incident will be released Wednesday.
Stick with Fox 40 as more information becomes available.
-----
Police are currently searching for a suspect they say fled the scene of a Kirkwood car crash. Helicopters are circling over Colesville Rd, while multiple agencies conduct a search on the ground near the Fox Hollow Rd intersection.
New York State police say they are looking for a suspect described as a white male, about 6 ft tall, with blonde hair and a neck tattoo. Police say he was involved in a crash on I-81 in Kirkwood around 11am Tuesday morning. The Audi he was driving was reported stolen in Florida. Police say the man fled the scene of the crash by jumping into the bed of an unsuspecting pickup truck and then continued to run on foot through a wooded area.
A Fox 40 reporter on scene saw state troopers, Broome County Sheriff's deputies, and a Johnson City K-9 Unit canvassing Colesville Rd.