Sport
PBLA Announces Postponing of Inaugural Season, but League Commissioner Could Have Solution
The Professional Box Lacrosse Association has announced that all remaining games of their inaugural season will be postponed as of Tuesday, January 31, 2023, however the league's Commissioner still remains optimistic about a possible solution.
In a press release sent Tuesday morning, the league officially made the announcement -- following reports that players had received emails on Sunday afternoon alerting them of the season's effective postponement.
The PBLA says the Season ticket holders will be contacted and will receive a full refund for the duration of the season.
"We made a difficult decision to postpone the remainder of the inaugural season," said owner Carmen Kesner in the release. "Our vision is to implement a fast, physical, safe, and exciting experience for our fans and players.  We believe we have been able to create this experience, but we feel there are elements we need to improve upon.  For that reason, we are halting the season to re-organize the league and team operations."
The league added that Brad Bryant will replace Kesner, and become the new Chief Executive Officer of the PBLA. 
On Sunday night, Fox 40 spoke with coaches within the league who stated that despite the news, higher-ups within the league were working "feverishly" to keep the season going.
League Commissioner Steve Donner took to Facebook, commenting on an Elmira Renegades Fan Discussion Page, explaining why the abrupt postponement occurred and a possible solution that could be on the way.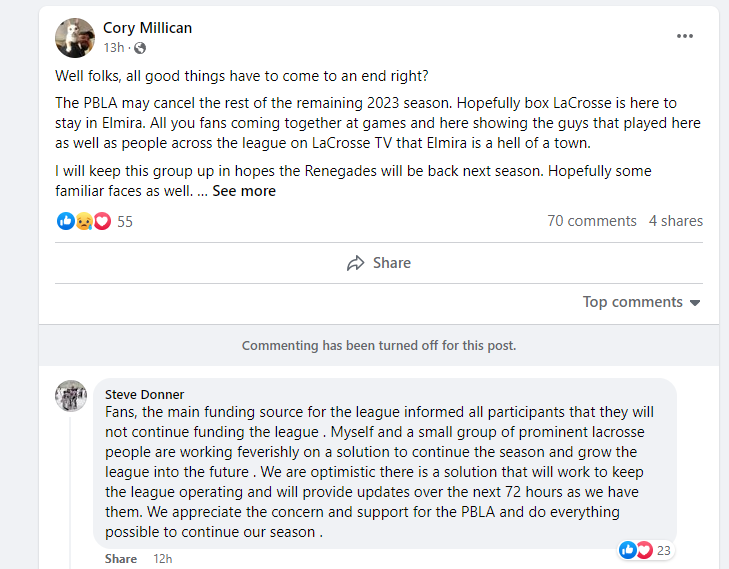 Donner stating: "Fans, the main funding source for the league informed all participants that they will not continue funding the league . Myself and a small group of prominent lacrosse people are working feverishly on a solution to continue the season and grow the league into the future . We are optimistic there is a solution that will work to keep the league operating and will provide updates over the next 72 hours as we have them. We appreciate the concern and support for the PBLA and do everything possible to continue our season."
Stay with Fox 40 as we learn more.