News
Supreme Court Strikes Down New York State's Gun-Control Law on Concealed-Carry Restrictions
On Thursday, The Supreme Court struck down a gun-control law in New York State that set restrictions on the concealed carry of firearms in the state.
In a 6-3 majority decision, the Supreme Court invalidated a law that would require New York State residents to show a "proper cause" to carry a handgun outside of the home. This decision will now make it easier for citizens to legally carry handguns on the streets. New York State residents will have the right to carry a concealed firearm outside of the home without a specific purpose to do so.
According to the Associated Press, the decision comes as Congress is actively working on gun legislation following the mass shootings in Buffalo, New York, and Uvalde, Texas. 
Democrat New York State Governor Kathy Hochul addressed her disappointment with the Supreme Court ruling in a tweet that states the law was "recklessly" struck down amidst the rise in gun violence.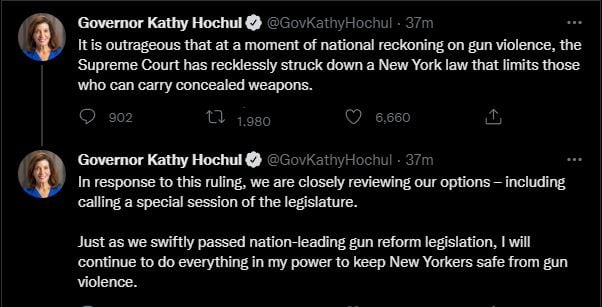 This ruling was the first major gun-control decision the Supreme Court has made in over a decade. In 2010, the justices established the nationwide right for citizens to have a firearm inside the home for self-defense purposes.