News
Sisson's Department Store: Peeling Away The Layers Of Binghamton's Past
Thursday, August 22nd 2019, 5:32 PM EDT
If you were to make a list of the oldest buildings in downtown Binghamton, would you think to include 59-61 Court Street on that list? The exterior of the building that houses Townsquare media's radio stations is deceiving. The building on the corner of Court and State Streets actually went up in the 1800s.
To tell the story completely, we have to rewind a bit. Before Boscov's and before Fowler's, there was Sisson's.
"It all started back in 1842, there was a guy named Benjamin Franklin Sisson and he was a cabinet maker in Connecticut," says Broome County Historian Roger Luther, "He decided he would pack his wife and kid and head west."
"West" ended up being Binghamton, NY. The Sissons took the Chenango Canal, arriving on what is now State Street in the city. With his life's savings of $1,000 in his pocket, Benjamin Sisson saw a business opportunity in the growing city. He rented land at the corner of Front and Main Streets and put in a general store. Original ledgers from the shop are kept in the Broome County Historical Society's vault and detail his inventory and purchases made. 
"Awful lot of tea, tobacco, coffee, fabric for making clothing. Boots. Prices were incredibly low," says Luther, who points out a purchase of a gallon of molasses for 11 cents.
Business was good. Within five years, Sisson's needed more space. That's when they moved to 59-61 Court Street. A two-story wooden structure went up along the canal. Sisson's goods got delivered right to his door by boat. Luther says "it was a great success," until it burned down in 1862.
"Didn't phase him, he decided he was going to build again and this time it was going to be fire proof," says Luther. 
Sisson hired architect Isaac Perry, who was in town supervising the construction of his inebriate asylum on the east side of the city. Perry designed a building out of granite. Sisson was done with wood.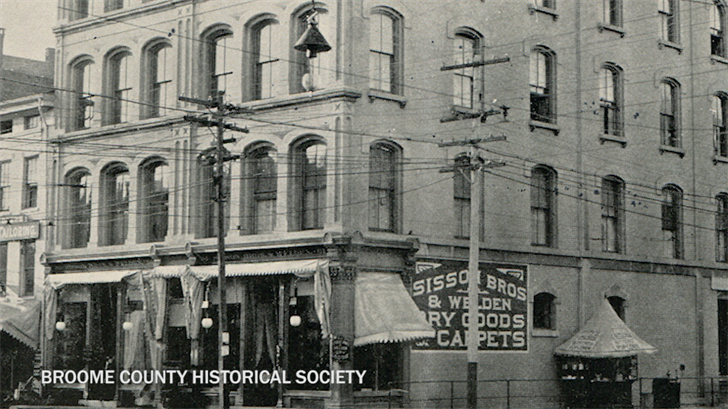 In 1871 the canal was filled in and State Street ran by the display windows of Sisson's instead of water. It was still a prime piece of real estate, though, with heavy foot traffic on a major corner of the city. 
The business continued to thrive and in 1916 it needed an addition. Sisson hired another notable architect, Truman Lacey, to add 8 stories on the back of the store and rework the front to match the addition. By that point, Sisson had brought in his sons, brothers, and a man named Weldon to help with the business. 
"It was the store to be at in downtown Binghamton," says Luther.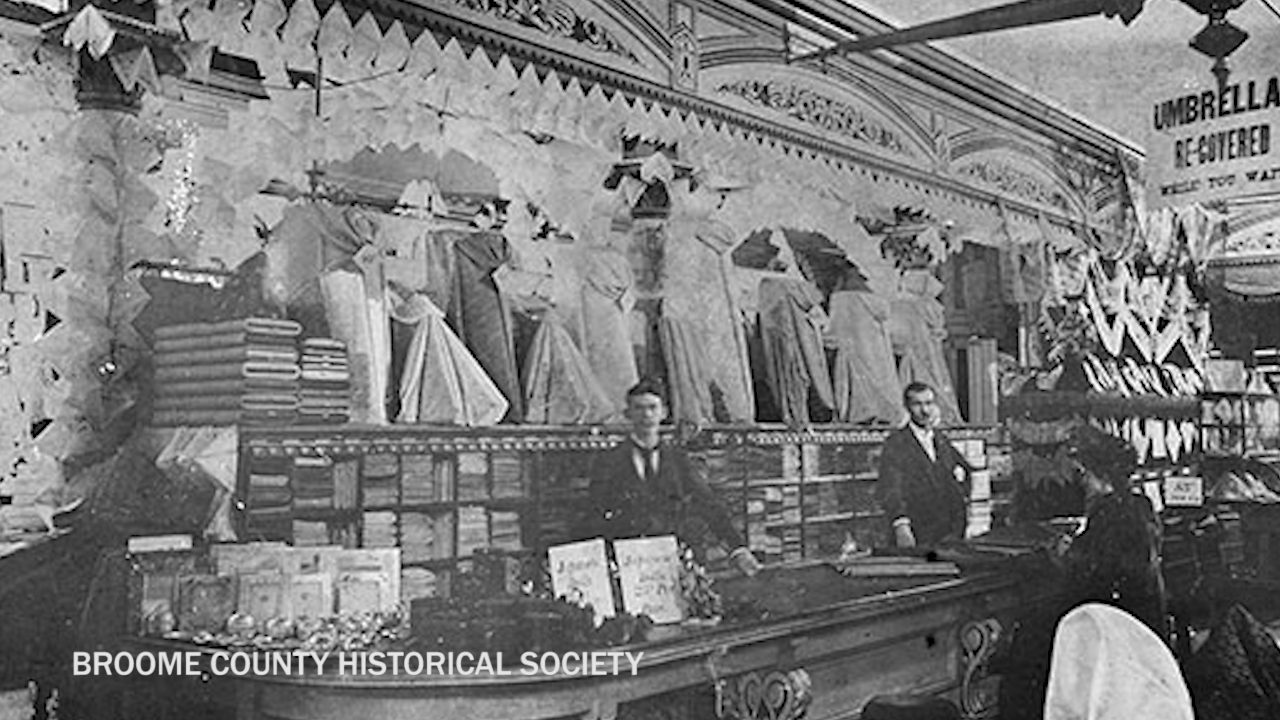 It would eventually fold under changing times. In the 1960s stores were opening up in the suburbs, drawing shoppers away from downtown. 
Sisson's closed its doors in 1963. 
Then, urban renewal hit downtown Binghamton. The empty Sisson's was the first to get a modern makeover. 
"And that's what you have here today. The interesting thing is, I mean right now you see the mid twentieth century modern glass and aluminum stucco… underneath all that glass and aluminum stucco is the original 1916 structure," says Luther.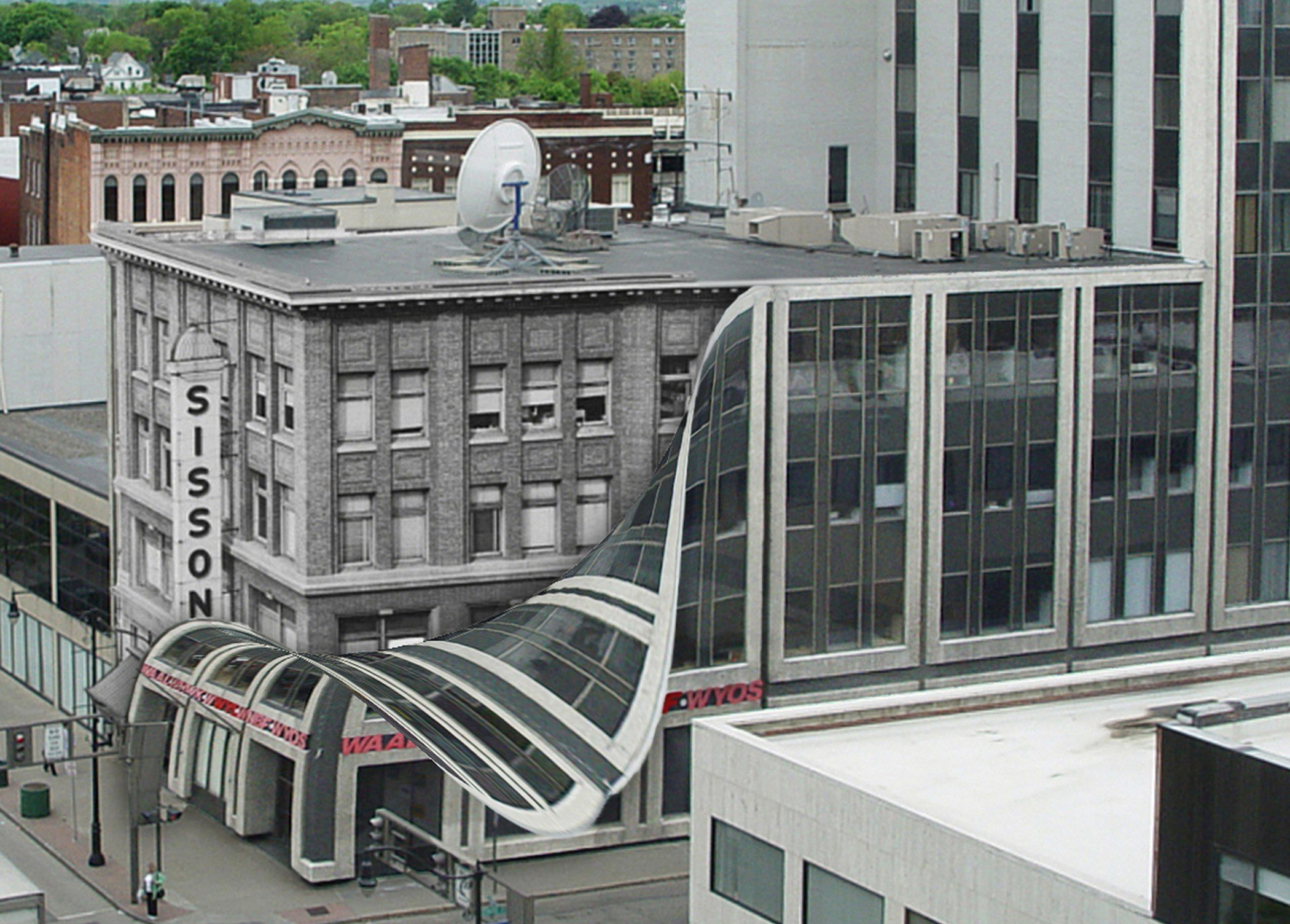 This piece of Binghamton's past is not lost, just painted over with the present.